Amid rising temperatures, this eighth-grader is taking on the dangers of heat-related illnesses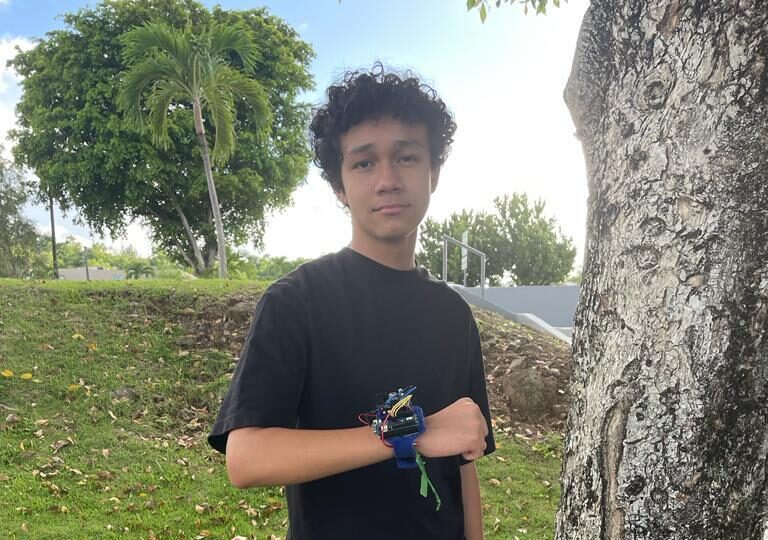 For the fifth year, The Lemelson Foundation is giving $100 awards to outstanding young inventors in Society Affiliate Fairs with middle school participants around the country. The prize was created to reward young inventors whose projects exemplify the ideals of inventive thinking by identifying challenges in their communities and creating solutions that will improve lives.
As temperatures continue to soar due to climate change, the risk of heat-related illnesses is also climbing, especially for those who reside in areas of high humidity. Living in Guaynabo, Puerto Rico, where temperatures can reach up to 104°F and humidity levels often climb to dangerous levels, eighth grader Alvaro Villafuerte wanted to find a means to keep track of risk factors and prevent incidents before they occur. After experiencing the dangerous effects of heatstroke a few times—once when he was six years old and once while playing soccer for his high school, Colegio San Ignacio de Loyola—Alvaro set out to create a wearable device which could alert its user and their emergency contacts when they might be at risk of a heat-related illness.
He created a watch called the TempWatch, which measures the heat index using a web-based monitoring system which can alert users and their emergency contacts of risky conditions. The watch's integrated body thermometer has the ability to measure their own temperature and determine if any steps might need to be taken. The TempWatch includes aa Wi-Fi Arduino microcontroller, a body temperature sensor, an ambient humidity and temperature sensor, a lithium battery and an LED in a device which is mounted in a custom-made bracelet. Alvaro also created a website to store and analyze all data collected by the TempWatch before sending a notification to the user and emergency contacts if a risk is determined.
So how does a watch measure risk for heat related illnesses?
The TempWatch's humidity and temperature sensors measure and send readings to the website he created every two minutes. This data is then analyzed by the website using the same parameters of the National Weather Service to determine if there are any risks. If the data does point to risk of a heat-related illness, the website will send a warning to the user and their emergency contact via text, prompting them to use the built-in thermometer to measure their own temperature which the website also stores and analyzes. The watch then sends out an appropriate message on how best to proceed.
Creating a device which communicates with a website was uncharted territory for Alvaro, and he found that his favorite part of the project was learning a new programming language to develop his webpage. "It was really rewarding being able to synchronize my device and the webpage to achieve the goal," he said.
Initially, Alvaro had athletes in mind when creating his design, as he had experienced heatstroke while playing soccer and wanted to create a device which wouldn't be invasive but could help him and others like him stay safe. As a next step in his project, Alvaro is working towards improving his design by updating and weatherproofing the circuit as well as expanding the parameters of the device so it can detect risks of cold-weather illnesses like hypothermia.
Alvaro received the Lemelson Early Inventor Prize at the Puerto Rico Metropolitan Science Fair in Carolina, PR, and is proud that his hard work paid off with a functional device which can improve safety and quality of life for others.
Heatstroke is a serious and potentially life-threatening illness, those experiencing symptoms should go to an emergency room or directly contact emergency services immediately.