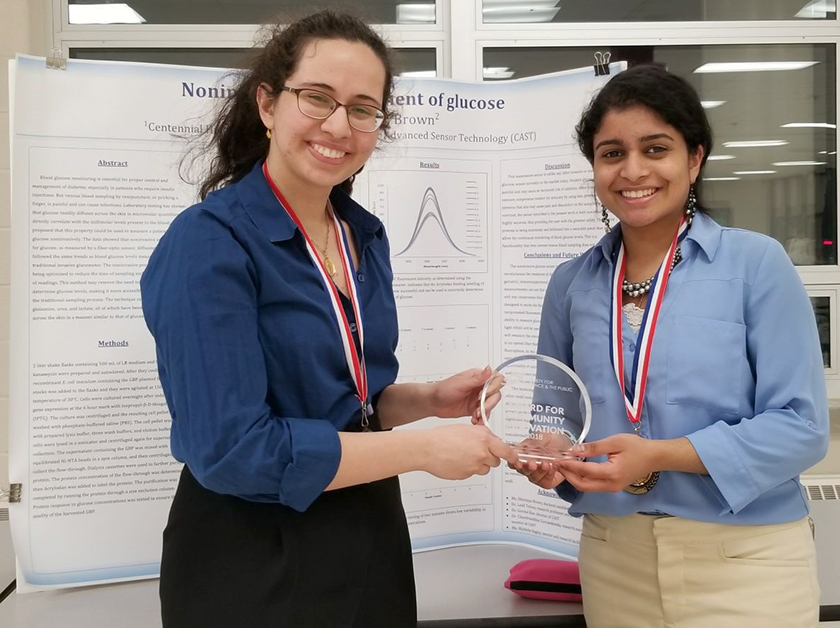 It's imperative that diabetics measure their blood glucose levels (BGL) several times a day. To do so, they use a glucometer, which breaks the skin with a needle in order to draw blood. The blood is then deposited onto a testing strip, and the measuring device determines BGL.
"For diabetics, this process of pricking the skin happens multiple times a day to monitor their BGL fluctuations," explained Samyukta Rao, a high school student from Ellicott City, Maryland. "This is uncomfortable and can sometimes be dangerous, especially for neonatal, geriatric, and immunosuppressed patients. Repeatedly pricking the skin at the same testing site can also cause calluses, which can make it difficult for the skin to heal."
Participating in science fairs inspired Samyukta to pursue biomedical research. At the Baltimore Science Fair, she met other students who were using fiber optics, which inspired her to use fiber optics in her device. "For young researchers, this early exposure allows for a cultivation of interests that could influence their decisions and future careers. These experiences are unique to the science fair atmosphere, which encourages the pursuit of new research avenues," she said.
Over the summer, Samyukta and Niki Gooya interned at the Center for Advanced Sensor Technology (CAST) at the University of Maryland-Baltimore County, where they have developed a prototype of a noninvasive glucometer.
Their method detects BGL through the skin, Niki explained. For this procedure, a person's finger is placed in an agitated wash then dried with filtered air to create a concentration gradient. An Eppendorf tube containing a phosphate buffer is inverted on the testing site, so the buffer makes direct contact with the skin. Because glucose is constantly diffusing through the skin, it will diffuse through the skin and into the buffer.
Through the glucometer prototype, Samyukta and Niki will collect and measure samples of diffused glucose. Then these samples can be extrapolated to noninvasively determine the BGL of an individual.
Currently, the duo is also taking a glucometer reading at the diabetic's usual testing site to determine how accurate their noninvasive method compares to the invasive one.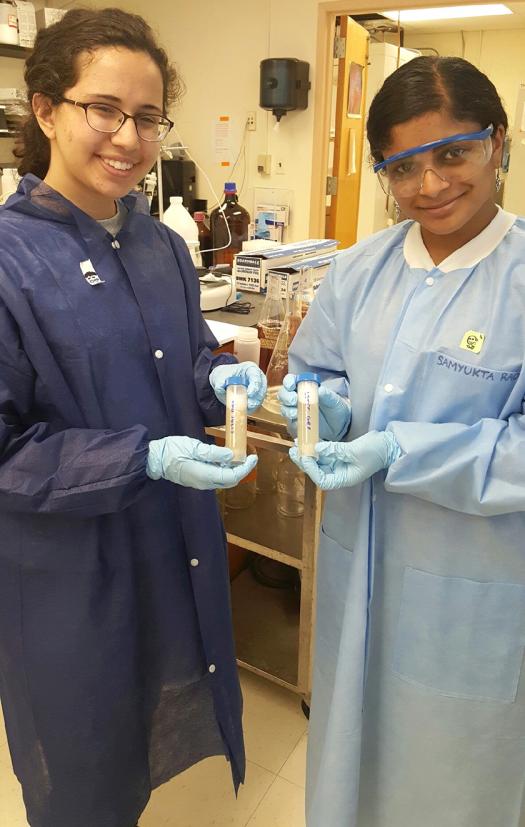 At CAST, Samyukta developed a passion for medicine and devices that can help people, while Niki was able to pursue her research interests in biomedical engineering.
Current glucose testing devices on the market are expensive and painful. "There's a clear need for new technology that is able to safely, conveniently, and cost-effectively measure BGL for those afflicted with diseases like diabetes around the world," Samyukta said. "This has widespread implications that can directly impact those in need."
Samyukta and Niki are working on refining the accuracy and lowering the cost of their noninvasive device. "Currently, it's still in the testing and development stages," Samyukta explained. "Soon, we'll be able to conduct more trials to automate the functions and fashion it into a wearable device that could allow for continuous monitoring."
Their work was selected by their local science fair for recognition as a Society for Science & the Public Community Innovation Award winner. This award honors students participating in science fairs around the world who are making a difference in their communities. In 2018, the Society rewarded 24 young scientists with $500 prizes — and Samyukta and Niki were two of them.
"I strongly believe in my device's ability to revolutionize the treatment of diabetes," Samyukta said. "I'm excited to see how this recognition could help it grow."
The students acknowledged the support they received from research professors, advisors, and teachers, including Sheniqua Brown, lead investigator, Leah Tolosa, and their teacher Michelle Bagley.