Building Minority STEM Participation through Competitions: The Advocate Grant Program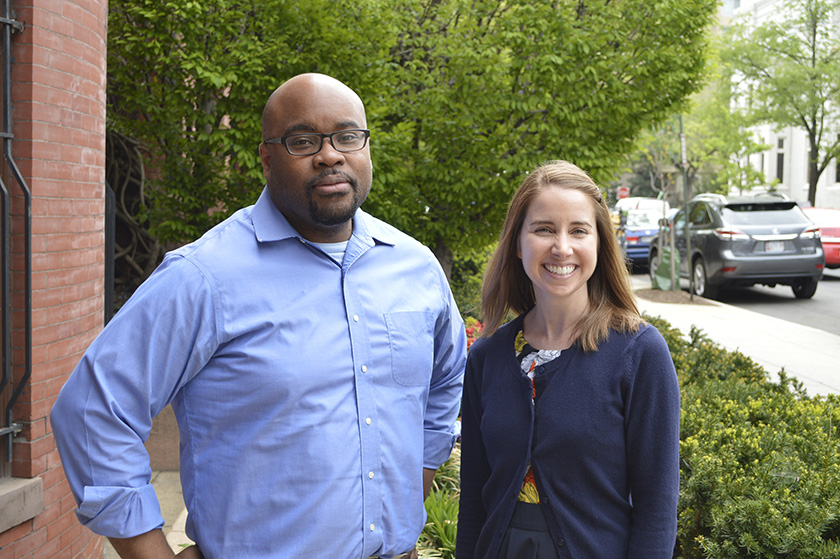 Science fairs and competitions — they're a gateway to higher education and STEM careers.
But that gateway isn't always open to countless low-income and underserved minority students who don't even know science fairs exist — students like one Washington, D.C., public high school senior whom Victor Hall met earlier this year.
"He was telling me about a fantastic science research project he'd done," says Hall, the Society's senior specialist for outreach, "and I asked if he knew about the Intel Science Talent Search (STS). And he said, 'What's that?'"
I asked if he knew about the Intel Science Talent Search. And he said, 'What's that?'
"Here's a minority student doing STS-level work but who didn't know what STS was — and so was missing out on an opportunity to win $50,000, $75,000, and now $150,000 for college," Hall adds. "As someone who has worked with public school students for a long time, that was painful to me."
---
And it's why the Society for Science & the Public developed the 
Advocate Grant Program
. Under the program, underserved students who work on science and engineering research partner with adult mentors who help them enter that research into competitions.
The goal: introduce these students to all the opportunities science fairs and competitions can provide — not just prize money, but research and application skills, meeting other students who share their passion about science, and the realization that they, too, could become scientists or engineers and one day win awards for their work
Scott Bolen of Atlanta's Rockdale Magnet School for Science and Technology was one of the program's first Advocates in its pilot phase last year. He's returning as an Advocate for the program's second year. He's seen past students in his classes go on to win awards from Intel STS, the Stockholm Junior Water Prize and the American Psychological Association, and he wants those same opportunities and recognition for students he'll be working with for the Advocate Grant Program.
"Preparing for this type of activity can take lots of work outside the classroom, and this is a place where I see socioeconomically challenged students struggle," Bolen says. "This program has allowed me to help with that struggle so that my students can enter competitive projects."
Pizza, Display Boards and Keeping a Cohort Together
Sponsored by the Alcoa Foundation, the Jack Kent Cooke Foundation, and the Society, the Advocate Grant program will provide $3,000 stipends to 30 Advocates in 2016-17.
Advocates use the funds to recruit the cohort, keep them together, and lead them to enter their research into at least one of the vast range of scientific competitions now held across the United States. That might mean a local or state fair, or it could be a big-name event such as Intel ISEF, Google Science Fair or the BioGENEius Challenge.
When students coming through the Advocate Grant program win awards and get up on stage, they'll become role models for younger students coming behind them.
The Advocates work hard — matching projects with competitions, making students aware of application deadlines, funding display boards and more.
Getting a cohort to mesh and keep meeting is crucial to its students' success and takes leadership and commitment (and occasionally pizza), according to Caitlin Sullivan, the Society's director of science education programs and STS program manager.
"A lot of these students are seniors in high school, applying to college — and some of them, especially if they're underserved students, have part-time jobs as they try to support their family," says Sullivan. "It's a challenge for some of the students to enter these competitions, and to keep them together and focused. But it's really powerful when it works."
And sometimes Advocates just provide assistance that other students might take for granted.
"It could be providing a graphing calculator to a student so she or he can calculate and tabulate their data," adds Victor Hall. "If your school or your household has limited access to computer resources, it can be making sure the students have that access to submit their application."
The Ripple Effect of Role Models
Catalyzing greater inclusiveness in STEM education is an abiding challenge. But Sullivan says that, by focusing on competitions, the Advocate Grant program can generate a big ripple effect. 
"When students coming through the Advocate Grant program win awards and get up on stage, they'll become role models for younger students coming behind them," she says. "If we don't have anyone on that stage, it's difficult for younger students to look up and say, 'Hey, I could do that.'"
"I just love watching the expression on the students' faces during our competitions — the expression on their faces when they win and their lives change," adds Hall. "And I want to make sure even more students know about these opportunities and have that chance, too."
Learn more about the Advocate Grant Program. Or sign up to be notified of when the application opens for the 2017-2018 year.