APA Offers Awards at Intel ISEF to Promote Psychology Research as a Career
The American Psychological Association (APA) is the largest scientific and professional organization representing psychology in the United States, and is the world's largest association of psychologists. With more than 137,000 researchers, educators, clinicians, consultants and students as its members, APA's mission is to advance the creation, communication and application of psychological knowledge to benefit society and improve people's lives. The APA sponsored awards at the Intel International Science and Engineering Fair 2012 (Intel ISEF) held this past May. Answers were provided by Caitlin Crowley, Program Associate, Precollege and Undergraduate Education.
Why is scientific research important to the APA? What made your organization decide to offer a special award at Intel ISEF?
Psychology, the scientific study of the mind and behavior, is a diverse discipline and a fascinating and relevant subject that applies to everyday life. APA hopes to promote a psychologically literate public and engage a future generation of researchers. Some psychologists do basic research, while others apply the discipline's scientific knowledge to help people, organizations, and communities function better. Considering how many of society's problems are based in human attitudes and behavior, psychological science research has great potential to contribute to solutions for these challenges.
APA is committed to supporting the promotion of scientific research and education at the secondary school level. APA enthusiastically offers special awards to Intel ISEF participants whose projects display excellence in psychological research. High school students are the next generation of scientific researchers and APA is happy to support and reward their work.
What award(s) do you offer?
APA grants seven awards to the best projects in the psychological sciences. Each year, a panel of psychologists selects the top projects. This effort is funded and organized through the APA Education Directorate. For the best projects in the psychological sciences, APA awards one first place prize of $1,500, one second place prize of $1,000, and five third place prizes of $500. All winners also receive an award certificate and a one-year student affiliate membership to APA.
Why do you think it's important for students to participate in events such as the Intel ISEF?
Instilling an appreciation for scientific research in students at a young age can encourage academic engagement and strengthen scientific understanding. The Intel ISEF competition offers an incredible opportunity to do this. Students are empowered by the opportunity Intel ISEF provides to not only answer their own scientific questions through legitimate research, but also to present their findings in a competitive and professional atmosphere. APA applauds competitions such as the Intel ISEF that are leading the way in inspiring younger generations of students to become involved in and passionate about science.
What impact do you think you, as an organization that provides awards and as judges, have on students interested in scientific research?
APA is devoted to educating the public about psychological science and the diversity of the discipline. Participating in Intel ISEF specifically gives APA the opportunity to encourage students to pursue psychological research to satisfy their scientific interests. From clinical practice, to neuroscience, to psychological testing, psychology encompasses a range of scientific investigation and discovery. By participating in Intel ISEF and allowing APA judges to interact with student researchers, we want to support students' research interests and help them understand the true scope of possibilities available to them as young scientists. We hope our awards can encourage young researchers to pursue their interest in scientific study, by showing them that APA recognizes the quality of their work.
What are the elements of a good science fair project? What areas of science does your organization focus on?
A good science fair project is creative, well-planned, and cohesive. APA judges look for projects that follow a consistent path from thesis to results, showing that students understood and properly tested their original research question. In addition, our judges are enthusiastic about creative projects. Given the rapidly evolving nature of psychology, our judges appreciate students who take an innovative approach to their research questions, designing their projects in new and different ways. Finally, our judges look for well-planned methodology and analysis. As psychologists, they understand the value and importance of thoughtful research design paired with appropriate statistical analysis.
Do you have any advice for young students interested in pursuing science? For organizations interested in becoming involved at Intel ISEF?
Young students interested in pursuing science should take advantage of opportunities such as the Intel ISEF to conduct research and engage with fellow students, teachers, and judges. Becoming familiar with a research environment will help students get excited about the limitless possibilities scientific research can offer. Students interested in pursuing science should encourage their high schools to offer research opportunities, either through a class or after-school club. Local science fairs are also great opportunities for students to conduct and present research projects. Many organizations like APA offer student (affiliate) memberships to interested students, and organizational websites can offer information on new research, publications of interest, and more.
Organizations interested in promoting student research and becoming involved at Intel ISEF should consider becoming a Special Awards Organization. With a wide range of scientific disciplines represented at Intel ISEF, organizations are sure to find projects that support their mission or interests. Supporting student research and recognizing students who have excelled in their scientific exploration is a wonderful way for organizations to get involved at Intel ISEF.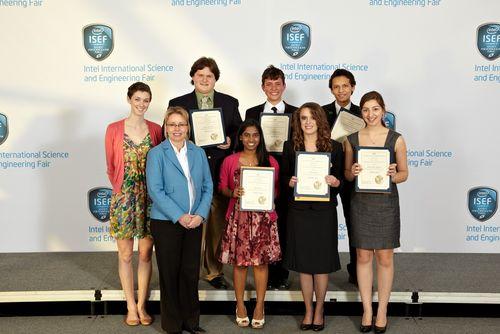 Most Recent Winners:
Winners of APA awards at the Intel ISEF 2012 were
Nicholas Corpuz from Murray, Utah for "Quantifying Implicit Stereotypes through the Cognition of Ambiguous Speech Associated with Visual Meanings;"
L. Elisabeth Burton from Rio Rancho, New Mexico for "A Big Fat Deal, Phase III: Attributions of Body Talk, Risk Assessments of Steroid/Dietary Supplement Use, Perceptions of Media Images, and Self-Esteem;"
Brandon Ramnath from Guteng, South Africa for "The Development of an Educational Board Game to Improve the Study Techniques of High School Students;"
Benjamin Kornick from Roslyn Heights, New York for "OMG: Look Who Joined Facebook! The Relationship between Parenting and Adolescent Risk Behaviors;"
Katherine Michelle Mangialardi from Ossining, New York for "An Investigation of the Economic, Social, and Consequential Factors that Affect Moral Decision-Making: A Behavioral and fMRI Study;"
Abdullah Mashat from Makkah, Saudi Arabia for "An Innovative Method for the Comprehensive Textual Reading Ability of the Visually Impaired;"
Abhilasha Gokulan from Little Rock, Arkansas for "Effect of Artificial Sweeteners on Neurodegenerative Disorders: Using PC12 Neuronal Cells as a Model."
Final Thoughts?
APA has proudly served as a Special Awards Organization for many years. Each year, APA members enthusiastically volunteer to judge at Intel ISEF, eager to support high school science research and see all these young students have accomplished. Our judges are consistently impressed by the high quality and rigor that characterizes the projects presented at Intel ISEF. APA looks forward to continuing as a Special Awards Organization and rewarding exceptional student research in psychological science.