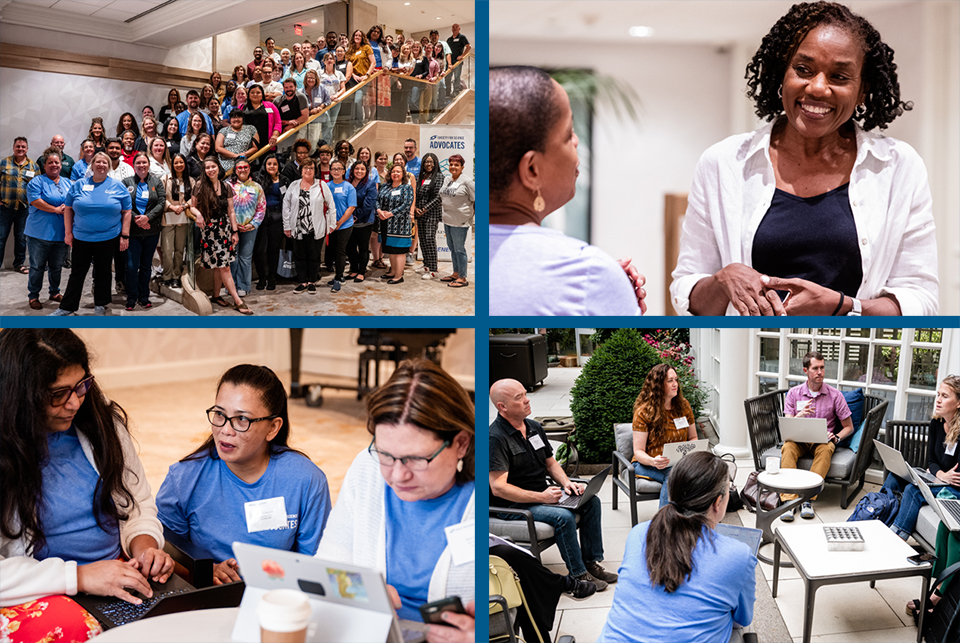 Society for Science (the Society), a distinguished leader in scientific and educational advancement, is pleased to share the names of 100 committed educators selected for the Advocate Program during the 2023-2024 school year. The Society is awarding a total of $326,000 to 100 teachers for student mentorship in STEM. In its ninth year, the Advocate Program acknowledges and applauds the dedication, tireless efforts and vital role that teachers and mentors play in empowering and guiding students, who will be the next generation of STEM problem solvers and critical thinkers. These students will undoubtedly emerge as the next wave of climate scientists, biotechnologists, data analysts, astronomers and engineers.
The Society's Advocates play a pivotal role in empowering students to embark on scientific research projects, which are then subsequently entered into STEM competitions and fairs. These dedicated mentors are tasked with enhancing opportunities for students who have historically been underserved and underrepresented, including those from diverse racial or ethnic backgrounds and low-income households. The Advocates, who receive professional development and year-round support from the Society, play a pivotal role in supporting students, from embarking on scientific research projects to entering their projects into STEM research competitions by fostering more accessible and equitable pathways into STEM.
Through their support of students in STEM research competitions, Advocates help to increase student self-confidence and find like-minded peer groups, develop written and oral communication skills, and help them to apply scientific thinking to the world around them, allowing them to become more science-minded citizens.
In addition to their guidance, these mentors often introduce students to potential research topics and projects. Once they assemble a cohort of learners, educators also provide valuable assistance in navigating logistical aspects, such as identifying appropriate competitions, compiling essential materials, and meeting crucial deadlines.
Award recipients this year come from 36 states, the District of Columbia and the Northern Mariana Islands. Thirty-six are middle school teachers while 52 are high school teachers. This year, there are also three educators affiliated with universities, two who teach at both a high school and a university, two are district level staff and six work in nonprofit settings. This year's Advocates represent 94 public schools and 3 private schools and serve in a variety of school types in urban, rural and suburban areas.This year, 87 Advocates will each receive a $3,000 stipend, while 13 Lead Advocates will each receive $5,000 and oversee a group of educators in the program. Lead Advocates have the same goals and framework for the year as the regular Advocates, with the added responsibility of organizing and hosting cohort calls, where they mentor and discuss challenges and opportunities. The program operates in one-year cycles where Advocates work to increase the number of students they guide through the research and competition processes. All Advocates aim to add a minimum of three–five additional students each cycle, depending on their setting, individual goals and experience level.
"The Advocate Program showcases the profound impact educators have on shaping the trajectory of future STEM problem solvers and innovators. This year's exceptional group of 100 teachers exemplifies the dedication and passion it takes to inspire and mentor the next generation of STEM leaders," said Maya Ajmera, President and CEO of the Society for Science and Executive Publisher of Science News. "Through STEM competitions, students not only showcase their research projects but also forge meaningful friendships and collaborations that will accompany them on their STEM journeys."
To date, Advocates have supported more than 6,000 students during their participation in the program, of which, over 4,400 students have successfully competed in at least one science research competition. During the 2022-2023 cycle, approximately 70% percent of student mentees participated in science competitions at the local and/or national level. Overall, students of Advocates are responsible for over 7,500 unique competition entries, with many students entering more than one competition. Eighty-five percent of those students are from low-income households and 80% percent are of a race or ethnicity underrepresented in STEM.
Earlier in June this year, the Advocates assembled at an Advocate Training Institute in Washington D.C. where Lead Advocates convened with their educator cohorts for small-group discussions on a myriad of educational topics.
This year's Advocate Program is made possible by Arconic Foundation, Intel Corporation, Jack Kent Cooke Foundation and Regeneron.
The following are 2023-2024 Lead Advocates, who will oversee groups of Advocates
Christina Campos, West Oso Junior High School (Corpus Christi, TX)
Loree Harvey, Monte Vista High School (Monte Vista, CO)
Merridith Joly, Gordon Parks High School (St. Paul, MN)
Edwina Kinchington, Pittsburg Science and Technology Academy (Pittsburg, PA)
Mary Kennedy, Conservancy for Cuyahoga Valley National Park (Cleveland, OH)
Gaurang Limachia, GoSTEM (Chicago, IL)
Ben Martin, St. Clair High School (St Clair, MO)
Eual Phillips, Hill-Freedman World Academy (Philadelphia, PA)
Andre Pineda, Canyon Day Junior High School (Whiteriver, AZ)
Heather Sims, Hobart High School (Hobart, OK)
Melissa Sleeper, Holy Trinity Episcopal Academy (Melbourne, FL)
John Wiley, Challenge School (Aurora, CO)
Jean Yoo, Almeria Middle School (Fontana, CA)
2023-2024 Advocates:
Roy Adsit, Saipan Southern High School (Saipan, MP)
Lance Atkinson, Eisenhower High School (Rialto, CA)
Iesha Baldwin, Georgia Institute of Technology (Atlanta, GA)
Aishat Balogun, Bloomington High School North (Bloomington, IN)
Stephen Beall, City High School (Tucson, AZ)
Rachana Bhonsle, Colleton County High School (Walterboro, SC)
Humberto Bracho, Peralta Hacienda Historical Park (Oakland, CA)
Karen Bruening, Pensacola High School (Pensacola, FL)
Jerry Cantrell, Seminole High School (Seminole, FL)
Jeffrey Charles, Del Valle Middle School (Del Valle, TX)
Janirette Chaves, River Springs Middle School (Orange City, FL)
Gemma Clarke, Chesapeake Math & IT Academy High School (Laurel, MD)
Philip Clarke, Centennial High School (Gresham, OR)
Rachel Collins, Woodbridge Middle School (Woodbridge, VA)
Renee Cordes, Flathead High School (Kalispell, MT)
Ann Marie Cowan, Hiram High School (Hiram, GA)
Kelly Cox, Forest Grove Middle School (Worcester, MA)
Steven Craig, Southeast High School (Bradenton, FL)
Laura Cruz-Gomez, Fannin Middle School (Grand Prairie, TX)
Jennifer Dahlstrom, Bronx Lab School (Bronx, NY)
Emily Dawson, Mark Bills Middle School (Peoria, IL)
Geizi, Dejka, San Juan College High School (Farmington, NM)
Marifi Doculan, Marianas High School (Saipan, MP)
Elizabeth Donaldson, Marfa High School (Marfa, TX)
Michele Drayton, Richard T Crane Medical Preparatory High School (Chicago, IL)
Chance Duncan, Russellville High School (Russellville, AR)
Patricia Dunne, Baldi Middle School (Philadelphia, PA)
Ryne Emerick, Lebanon High School (Lebanon, MO)
David Esparza, Transmountain Early College High School (El Paso, TX)
Velicia Everett, Sampson Middle School, (Clinton, NC)
Susie Fisher, Tongue River Middle School (Ranchester, WY)
Shauna Garbe, Barratt Elementary School (American Fork, UT)
Alaina Garza, Clear Brook High School (Friendswood, TX)
Jennifer Gentry, Vanderbilt Collaborative for STEM Education and Outreach (Nashville, TN)
Kimberly Gonzalez, Westminster High School (Westminster, CA)
Christina Griffis, Putnam Academy of Arts and Sciences (Palatka, FL)
Jennifer Gwilt, Glenn W. Levey Middle School (Southfield, MI)
Cameron Hall, Caddo Parish Magnet High School (Shreveport, LA)
Sondra Harris, Indiana Math and Science Academy West (Indianapolis, IN)
Samuel Hartpence, Pathfinder High School (Lander, WY)
Jennifer Hatch, Medomak Valley High School (Waldoboro, ME)
Dede Henderson, South Hamilton Jr./Sr High School (Jewell, IA)
Toni Ireland, Centennial High School (Ellicott City, MD)
Sunday Iwalaiye, Laurel High School (Laurel, MD)
Kaleena Jedinak, Tybee Island Maritime Academy (Tybee Island, GA)
Carter Johnson, Hilsman Middle School (Athens, GA)
Patricia Jolliff, Richardson PREP HI Middle School (San Bernardino, CA)
Winnie Jones, Meridian Public School District (Meridian, MS)
Stephanie Jones, Central Gwinnett High School (Lawrenceville, GA)
Andrea Jydstrup-McKinney, West Career and Technical Academy (Las Vegas, NV)
Michele Karnbach, Woodbridge High School (Woodbridge, VA)
Jean Karst, John Jay Science and Engineering Academy (San Antonio, TX)
Jeannine Lanphear, North Brunswick Township Public Schools (North Brunswick, NJ)
Lori Linkins, Neely's Bend Elementary School (Madison, TN)
Nathaniel Lohmann, Palmer High School (Colorado Springs, CO)
Ashley Long, Undercroft Montessori School (Tulsa, OK)
Jensine Lucas, Octavia E. Butler Magnet (Pasadena, CA)
Demvia Maslian, New Mexico Military Institute (Roswell, NM)
Kristi Mathiesen, Monte Vista Middle School (Monte Vista, CO)
Brittany Mendez, Harmony School of Innovation (Brownsville, TX)
Donna Misthos, Austin Science Education Foundation (Austin, TX)
Jessica Mitchell, McNeil Middle School (Wichita Falls, TX)
Joy Mordica, Equity Research Group (Atlanta, GA)
Lalitha Murali, Glen Hills Middle School (Glendale, WI)
Pamela Nagafuji, University of Colorado – Denver (Denver, CO)
Bree Oatman, Lower Brule High School (Lower Brule, SD)
Alfredo Olivas, INSIGHTS Science & Discovery Center (El Paso, TX)
Vilma Orduna, Porter Early College High School (Brownsville, TX)
Brenda Perez-Goodrum, New Liberty Innovation School (Salem, MA)
Damaris Ponciano-Jackson, M.E.T.A.S. STEM, LLC (Frederick, MD)
Tyrikia Porter, Magnolia Middle School (Meridian, MS)
Garrick Purdie, Duplin Early College High School (Kenansville, NC)
Liliana Ramos, Ronald W. Reagan Doral Senior High School (Doral, FL)
Laura Rosado, Colegio San Ignacio de Loyola (San Juan, PR)
Wanda Rosario, Northeast High School (Oakland Park, FL)
John Ruhl, Toms River Intermediate North (Toms River, NJ)
Alfred Santos, Harvest Preparatory Academy (Yuma, AZ)
Tabatha Schacht, Montwood High School (El Paso, TX)
Jake Schofield, Yonkers Partners in Education (Yonkers, NY)
Delois Scott, Murphey Middle School (Augusta, GA)
Zulaika Shamshieva, Tallahassee School of Math and Science (Tallahassee, FL)
Adrienne Shilling, Idaho Virtual Academy (Meridian, ID)
Audrey Smeltzer-Schwab, Muhlenberg High School (Reading, PA)
Katie Southard, Salem High School (Salem, AR)
Bradley Spencer, North Park Elementary School (Roy, UT)
Jennifer Stover, Lufkin High School (Lufkin, TX)
Sergio Torres, Native American Community Academy (Albuquerque, NM)
Learn more about this year's Advocates here: https://www.societyforscience.org/outreach-and-equity/advocate-program/meet/2023-24/
About Society for Science
Society for Science is a champion for science, dedicated to promoting the understanding and appreciation of science and the vital role it plays in human advancement. Established in 1921, Society for Science is best known for its award-winning journalism through Science News and Science News Explores, its world-class science research competitions for students, including the Regeneron Science Talent Search, the Regeneron International Science and Engineering Fair and the Thermo Fisher Scientific Junior Innovators Challenge, and its outreach and equity programming that seeks to ensure that all students have an opportunity to pursue a career in STEM. A 501(c)(3) membership organization, Society for Science is committed to inform, educate and inspire. Learn more at www.societyforscience.org and follow us on Facebook, Twitter, Instagram and Snapchat (Society4Science).
Media Contact:
Aparna Paul (she/her)
Director of Communications
Society for Science
apaul@societyforscience.org
781-375-8353