40 finalists and 40 STEM dreams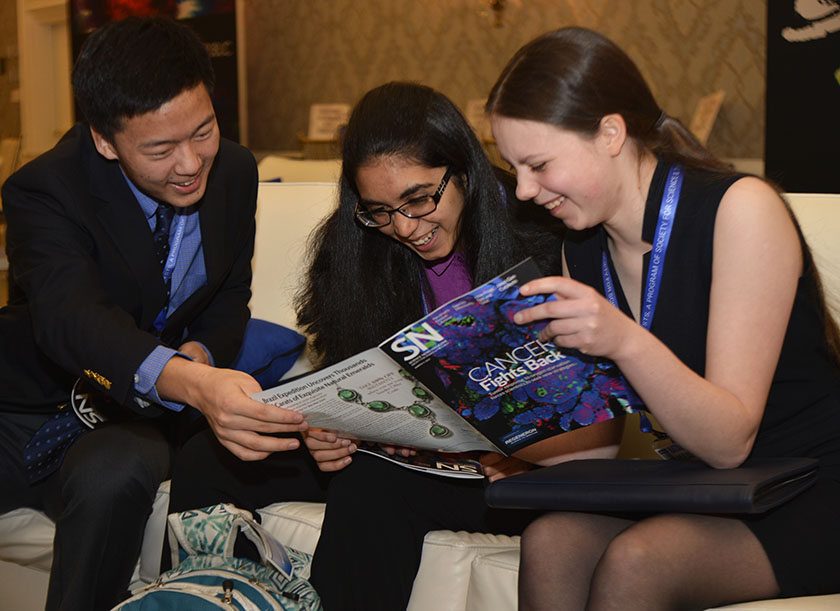 Forty posters, 40 finalists, 40 hopes and dreams about STEM. Today, the 40 Regeneron Science Talent Search finalists are presenting their scientific research to the public at the Regeneron STS 2017 Public Exhibition of Projects at the National Geographic Society in Washington, D.C.
We spoke to four finalists right before the Public Exhibition of Projects began. Read on for an inside look into a few of their incredible projects.
---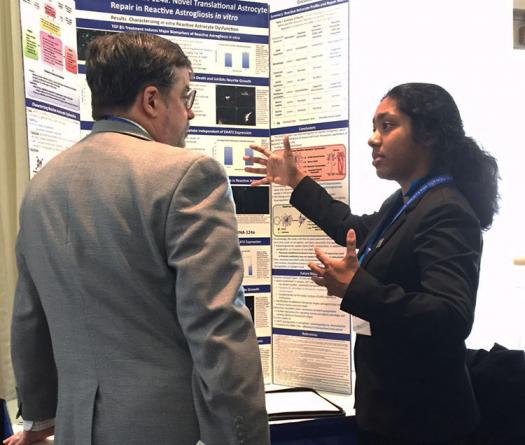 Indrani Das
Indrani, from Oradell, New Jersey, explored brain injury and how to repair supporting cells that in certain conditions of brain injury can cause neuron death. She researched these issues for three years in her high school's cell culture lab.
Indrani explored how to repair cells that in certain conditions of brain injury can cause neuron death.
"It's bad enough that when you receive a traumatic brain injury, a stroke, a neurodegenerative disease, there's already damage that is going on to neuron's brain cells. But in addition to that, there are supporting cells, specifically astrocytes, that contribute to that death and damage," Indrani said.
So she focused on repairing astrocytes, preventing them from harming neurons, and creating a better chemical environment for neurons to grow and survive in. Certain proteins in astrocytes can keep neurotransmitters from functioning properly. Her research could allow other therapies to work better or the development of new therapies for traumatic brain injuries. The molecule she used in her research can cross the blood-brain barrier, so if it's accessible to be used in treatments.
Indrani plans to study biochemistry or biophysics in college. She wants to further study what microRNA targets in astrocytes, since that may be a good way to find out how brain diseases start.
Vineet Edupuganti
Vineet, from Portland, Oregon, developed a biodegradable battery that can dissolve over time. Some real-life applications for such a battery include ingestible medical sensors that detect PH or temperature in the gastrointestinal tract and dissolve in a patient, or environmental sensors for oil spills to keep from further polluting the environment, or laptops and phones that don't have to be thrown into landfills with their heavy metals seeping into ground water. "We could have devices that can dissolve after we're done using them, which is much more environmentally friendly,' Vineet said.
Vineet's design outperforms other batteries from multiple studies. And he extended battery life six-fold by switching materials from magnesium to magnesium-alloy, which was more durable and resistant to corrosion.
"This is really new technology, so there is no commercialized biodegradable system or battery," he said. "My design is a major step towards the ultimate goal of reaching commercialization."
In the future, he is interested in exploring other alloys that may further improve biodegradable batteries. Vineet plans to major in material science, electrical engineering, or other related fields.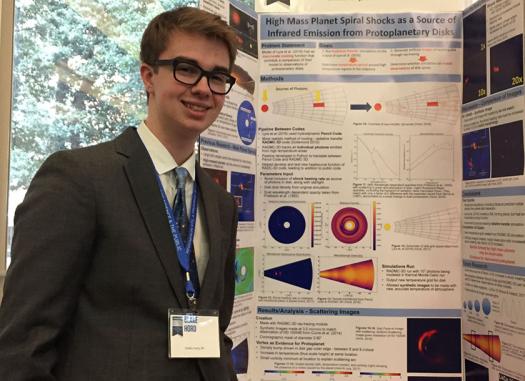 Blake Hord
Blake, from Dobbs Ferry, New York, improved the computer simulations that astronomers use to examine the formation of planets. He might have even discovered a protoplanet himself with this research.
Blake's theoretical models can help astronomers spot forming planets. "If we can create specific simulations for each telescope observation that we have, and then make a fake image of what those simulations would look like, then we can tell whether our simulations are correct. If what we're seeing in the simulation is what we're seeing in real life," he said.
His research could have applications in the search for habitable planets in other systems around other stars.
My interest in planet formation was spurred by me wanting to know the origins of the human species at its earliest … before our evolutionary history.
"I've always been interested in space, for as long as I can remember," Blake said. "My interest in planet formation was spurred by me wanting to know the origins of the human species at its earliest. Before our evolutionary history, before we were tiny microbes 3.5 billion years ago, we had to come from somewhere."
In college, Blake wants to major in computer science, astrophysics, or physics.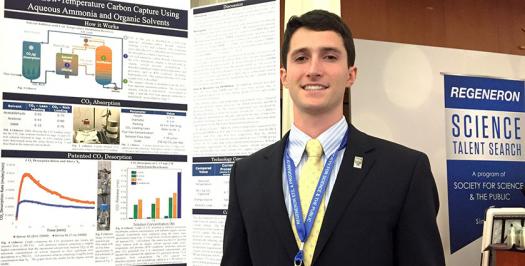 Ethan Novek
Ethan, from Greenwich, Connecticut, invented and patented a way to capture carbon dioxide that uses 90 percent less energy than existing processes. This new method captures CO2 and desorbs it into a pure form. He is currently constructing a pilot-scale prototype in San Antonio, Texas for this mechanism.
"This is essential to solving climate change," Ethan said. "You need CO2 capture to be able to get rid of CO2 emissions."
There's a large market for CO2 emissions, since it's currently very expensive to use CO2 capture technology. The same way we drill for oil and gas, we currently drill for CO2, "which is really counterintuitive and counterproductive," Ethan said. So he hopes this mechanism can sustainably provide CO2 at below-market prices.
This is essential to solving climate change.
Ethan is also the CEO of a company he founded to include his intellectual property. He plans to continue developing breakthrough systems to reduce energy consumption, convert waste into valuable material, and create sustainable energy resources. He's currently a semifinalist in the Carbon XPRIZE. Ethan will attend Yale University and major in chemical engineering.
Come learn more about these projects and others at National Geographic from 1-4 p.m. If you are unable to join us in person, join virtually through Facebook LIVE. Tune in to the Society's Facebook page at 2 p.m. ET to hear from the students and learn about their projects.