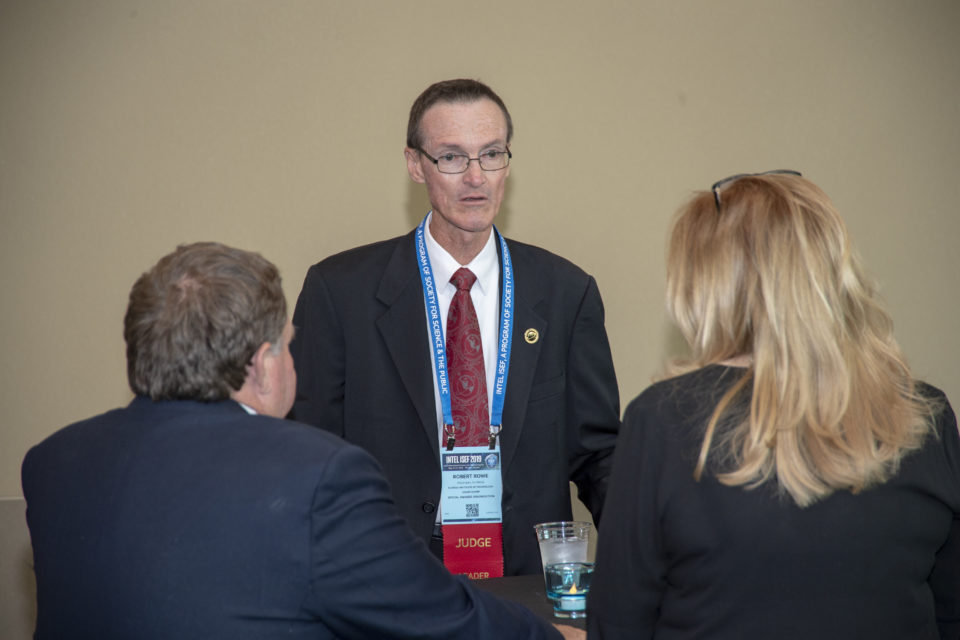 Useful Documents and Links
SAO Judging Schedule
Regeneron ISEF SAO Schedule 2020
View schedule
Housing
Information on housing options for Regeneron ISEF 2020
Book Housing
Judges' Finalist Directory
Sample directory from ISEF 2019
View directory
Approved Official Abstracts
Access official abstracts (password protected)
View abstracts
Parking Information
Will be available May 2020
Open Grid Interview Schedule
Sample from 2019 – each category has it's own sheet
View Open Grid
Overview of Judging Process and Schedule
TRIAGE OF PROJECTS:
The Organization and /or Judge Team Leader has provided criteria to assist in the selection of their award winners. Selecting specific winners from nearly 1400 incredible ISEF Finalists projects may feel like a very big undertaking. With an organized pre-fair triage this task can be substantially minimized.
In mid-April your teams goal is to review the "College Choice" spreadsheet identifying project titles that may align with the organizations provided criteria. Let's use the example of 100 projects identified. The abstracts become available, your team divides and conquers this review and triages now to 40 projects.
Upon arrival at the Fair on Tuesday you will continue to triage the projects by viewing the finalists project boards and data books, Finalists won't be at their project booths. The day ends with a determination of final projects to interview on Wednesday, let's suggest that you have now narrowed to 15 projects.
Wednesday a.m. you'll have the first open "SAO only" period of time to interview the students. Afterwards throughout the balance of the day you'll need to defer to the set Grand Award Judging schedules by viewing and selecting "open grid" times to interview the finalists.
TUESDAY
Registration and Pre-judging
Special Award Judges may register in the morning. Judges will receive a name badge with a red ribbon to designate a Special Award judge. The name badge serves as official identification and is necessary for access to the judging areas. Immediately following registration, each judge should proceed to the SAO Judges Discussion Area to locate any fellow judges at the designated discussion table for his/her organization.
Special Award judges utilize Tuesday period to caucus, preview the finalists, and determine selection of projects to be included in their reviews, and/or make final assignments of projects to their judges.
Please review the daily breakdown below for more specific information.
Pre-review of Finalists' Projects (No Finalists present)
Judges may preview the finalists' projects beginning at 12:00 p.m. on Tuesday to determine the overall quality. Special Award judges should use this time to select those finalists' projects eligible for their organizations' award. If possible, Special Award judges should check a variety of finalists' projects because the scientific category does not always clearly indicate whether a project would meet the organization's criteria.
There is scheduled an Excellence in Science and Technology Panel for ISEF registrants on Tuesday morning. Judges are welcome to attend. Topics of this discussion will cover a wide range of subjects including the award recipients themselves, their scientific/engineering achievements and any other subject of interest that may be posed. It is hoped that this discussion will serve as a catalyst for the discussions the judges will have on Wednesday with the finalists.
On Tuesday evening the "open grid" will be available above. This "open grid" indicates when Special Award Judges have open times to interview the students. These are times when the Grand award judges do not have scheduled interviews with the finalists.
WEDNESDAY
Wednesday begins at 7:00 a.m. with a continental breakfast for all judges.
Judging Assignments
The sponsoring organization, through its designated judging leader, is responsible for establishing final assignments of their judges. The ISEF Finalists' Directory serves as the initial source of topics, titles, and location of projects. To help Special Award judges efficiently schedule their interview sessions, Society for Science & the Public will print a Finalists' schedule grid which will show the "open periods" when the finalists do not have a Grand Award judging interview. A large copy of this grids will be posted in the Project Exhibit halls and in the SAO Judge's Discussion Area.
Judging Record Folder
By Wednesday morning, the Team Leader should have received their Judging Record Folder from the Special Award Check in table. This red folder contains a reporting sheet to provide final certification of judging results for all awards. The Special Award Leader of each judging group is responsible for the folder. To be included in the Award Ceremony your results must be submitted to the Check in table after 1 p.m. and before 7 p.m. on Wednesday evening.
Final Certification of results is not official until the Leader has:
Returned the Judging Record Folder and its certification sheet to the Society for Science & the Public SAO check in table
Reviewed computer-generated documents to confirm proper inclusion of each award winner
Signed and returned the printed documentation provided
Final awards documentation must be received before the special award leader leaves the judging area.