Travel Insurance for Coronavirus/COVID-19 Coverage
DISCLAIMER: Society for Science and Regeneron ISEF have not partnered with any specific vendor and encourage you to investigate the insurance company that best fits the needs of your delegation.
If you are seeking COVID-19 travel coverage for Regeneron ISEF 2022, below are some details explaining what this insurance covers to help you decide if this is something your fair would be interested in as well resources to find policy providers. One provider, Trawick International®, offers coverage for both domestic & international travelers. These plans can be purchased for individuals or groups for as little as $31 per traveler.
Domestic Travel
Travel Insurance Plans – include Trip Cancellation and Trip Interruption for US Citizens and US Residents while traveling within the USA or abroad
COVID-19 Coverage provides Trip Cancellation reimbursement for unused, non-refundable insured trip cost if you are prevented from taking your trip if you or your traveling companion become sick with COVID-19 before your trip is to start and a doctor states you cannot travel.
Trip Interruption provides reimbursement for unused, non-refundable insured trip costs if the trip is interrupted due to your becoming sick with COVID-19 while on your trip.
Trip Delay provides coverage for transportation, meals and lodging when you are quarantined by a physician or government.
Sickness Medical Coverage – The plan will also pay you to be medically treated on your trip if you become infected with COVID-19 and need treatment after your travel has started. Depending on your coverage, medical maximums range anywhere from $10,000 to $1,000,000.
International Travel
Travel Medical Insurance Plans for Travel to the USA
If you are traveling to the USA, you can be covered if you get sick from Coronavirus if you are infected after the effective date of the policy. Covid-19 is treated the same as any other sickness. Threat level warnings or declaration of a pandemic by any or all countries does not affect medical coverage. These plans list COVID -19 as covered on the Visa Letter you receive after applying and list it as covered in the medical section of the policy. The plans do not cover voluntary tests needed to return to your Home Country. These travel medical insurance plans include Safe Travels USA, Safe Travels USA Cost Saver, and Safe Travels USA Comprehensive. Medical maximums are anywhere from $25,000 to $1,000,000 and Deductible Choices from $0 to $5,000 depending on the requirements of the country you are visiting.
If you would like to purchase a COVID-19 Travel Insurance Policy, you can click the button below, visit https://www.trawickinternational.com/?agent=1631 , or call (888) 301-9289.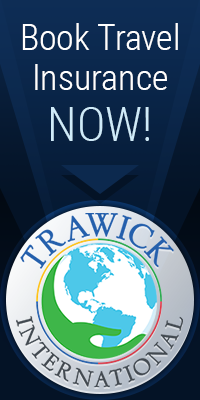 For more information please visit Trawick's FAQ COVID-19 Page, or call (888) 301-9289.
You may also visit the following link to find a list of the top COVID-19 Travel Insurance providers for 2022. https://www.forbes.com/advisor/travel-insurance/best-pandemic-travel-insurance/
SquareMouth allows you to search and compare these providers to find the right plan for your group.