ISEF COMMONS at the Regeneron International Science and Engineering Fair
Where world-class STEM students and top universities connect.
A program of the Society for Science & the Public, Regeneron International Science and Engineering Fair (Regeneron ISEF) is the world's largest pre-college science competition. Over 1,800 finalists represent the top high school STEM students from the U.S. and more than 75 countries, presenting their research and competing for more than $5 million in awards.
Where:
Regeneron International Science & Engineering Fair (Regeneron ISEF)
Anaheim Convention Center
Anaheim, CA
When
ISEF 2020: May 10-15, 2020
ISEF Commons: May 10-12, 2020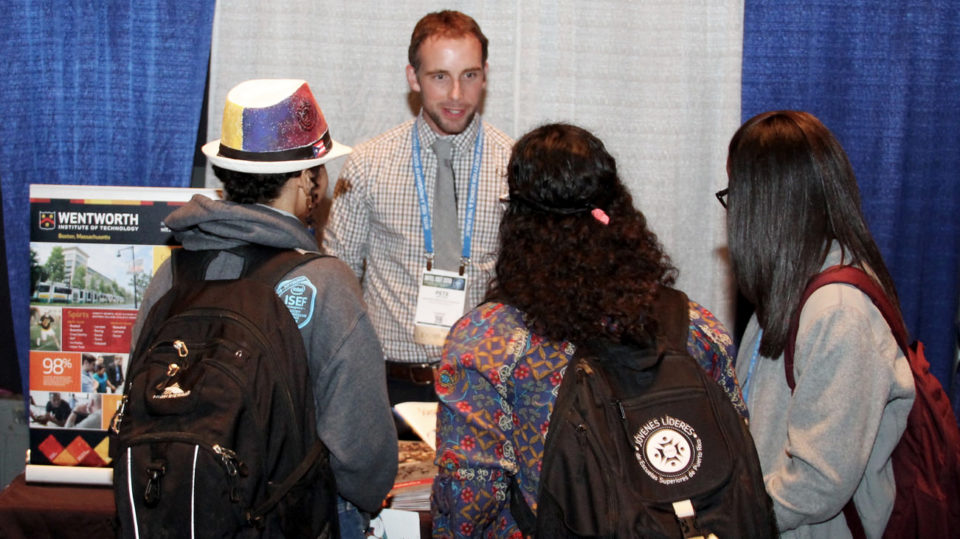 Meet the brightest future stars of STEM and introduce them to all your institution has to offer.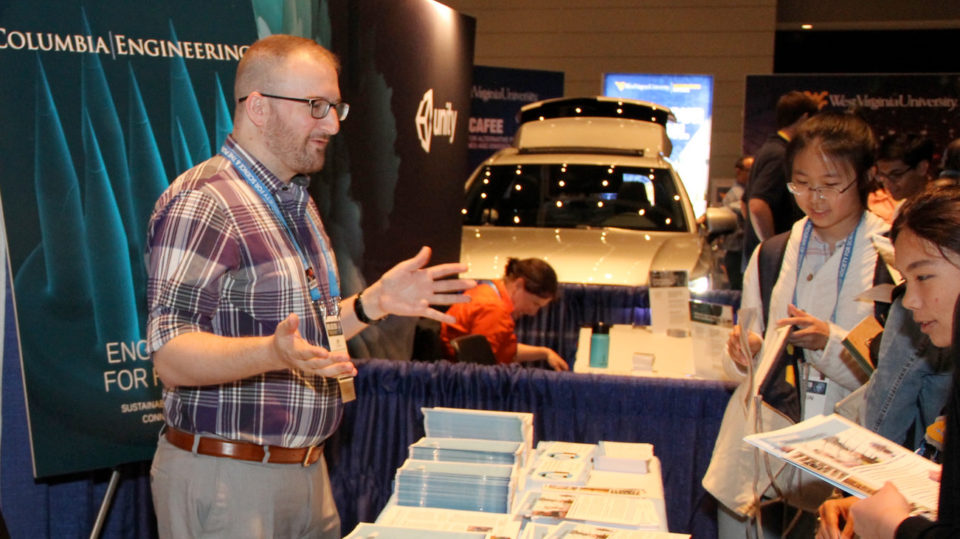 Exhibit at the ISEF Commons
Who are the Regeneron ISEF finalists?
ISEF finalists express interest in a wide range of colleges and universities, and they are sought after and accepted by top institutions in the U.S. and abroad. Here is a breakdown of the 2019 ISEF finalists:
1,816 finalists (50% male, 50% female)
Represented 80 countries, territories and regions including 49 US states and D.C.
62% from US (and US territories); 38% international
Research presented in 22 STEM categories
Why should my institution participate?
There is no other event where colleges, universities and other organizations can interact with so many top, pre-selected science and engineering high school students from around the world.
Regeneron ISEF not a college fair — it's an opportunity to meet the next generation of STEM stars, demonstrate your institution's commitment to developing diverse STEM talent, and to be part of the exciting ISEF community.  And you'll get to showcase your institution to the student finalists, as well as mentors, science fair directors, parents and others who influence college and career decisions. And, during a specially designated time you'll have access to the finalist exhibit hall where you'll have an additional opportunity to interact with the finalists, as well as view their research projects.
"Representing an institution that focuses on world class STEM education, ISEF provided the perfect opportunity to meet exceptional students with a passion for science and engineering from across the globe."

Catherine Eames, International Student Recruitment Manager, Imperial College London
How can my institution participate?
You can be an exhibitor in the ISEF Commons, an area where finalists, educators, mentors and parents can interact with exhibiting colleges/universities and other organizations with a science and education focus.
ISEF Commons exhibitors also have the option of participating as a Special Awards Organization (for an additional fee), or applying to present an educational symposium.
"ISEF finalists have distinguished themselves as some of the most outstanding young researchers from their regions and around the globe. Many current and former MIT students (and even several of our faculty) are ISEF alumni, and their creative, conscientious research continues to enrich our community — and the world."

Stu Schmill, Dean of Admissions and Student Financial Services, Massachusetts Institute of Technology
Participation is limited to 70 exhibitors, so reserve early.
Contact Daryl Anderson at (202) 872-5127 for more information about exhibitor packages and other ways the Society can help your institution connect with high school STEM students.
Reserve Your Space Now
2020 ISEF Commons Exhibitors (to date)
2019 ISEF Commons Exhibitors (Phoeniz, AZ)