Cindy DeDianous
Scarsdale High School
Scarsdale, New York
About Cindy DeDianous
Cindy's research on a type of diabetic eye disease indicates that damage to the retinal neurons actually begins much earlier than thought, within weeks of the onset of diabetes. She hopes her work will one day lead to early diagnosis and treatment of diabetic retinopathy.
Alpha Retinal Ganglion Cell Dysfunction Precedes Vascular Dysfunction in a Mouse Model of Type 1 Diabetes
View Poster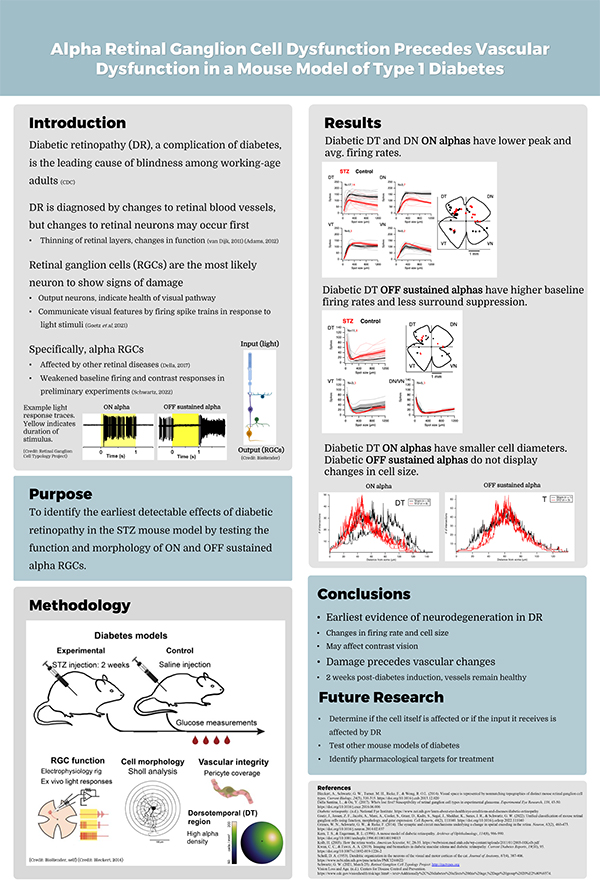 View Poster
Cindy DeDianous, 17, of Scarsdale, conducted research on diabetic retinopathy for her Regeneron Science Talent Search neuroscience project. Diabetic retinopathy occurs after a person's high blood sugar levels damage the retina, and it is the leading cause of irreversible blindness in working-age adults. However, it can only be detected after damage to the eye's blood vessels has already occurred. Moreover, once the condition is detected, treatment often only slows vision loss. Cindy's research on the eyes of diabetic mice demonstrated that damage to the retinal neurons actually began much earlier, within two weeks of the mice becoming diabetic. Cindy believes her research provides evidence that early diagnosis and treatment should focus on detecting retinal neuron damage to help prevent vision impairment.
The daughter of Ivy and Jean-Luc DeDianous, Cindy is the co-captain of the Scarsdale High School speech and debate team and co-editor-in-chief of the school's scientific journal, which she co-founded. She also volunteers at the local public library, leading high school students in monthly discussions about books that address issues like racial justice and climate change and planning other community service projects.
Beyond the Project
Cindy, a volunteer at the New-York Historical Society, helped produce an animated video about American imperialism and conducted another research project on Native American relocation.
FUN FACTS: Cindy keeps a dream journal and carefully records particularly vivid dreams. She says, "Reliving my alternate lives is exhilarating—especially if they're as absurd as slaying a giant gummy bear."