Ariella Maia Blackman
Harrison High School
Purchase, New York
About Ariella Maia Blackman
Ariella investigated ways to amend simulated Martian soil to allow plant growth and the production of oxygen for future astronauts on Mars by testing the oxygen production of heat- and drought-tolerant bean plants. She mixed different proportions of Earth soil and artificial Martian soil and found the range of soil mixtures that showed the most promise while reducing launch cost.
Developing a Model in situ Resource Utilization System for Oxygen-Sustaining Life Support and Launch Cost Reduction for Mars
View Poster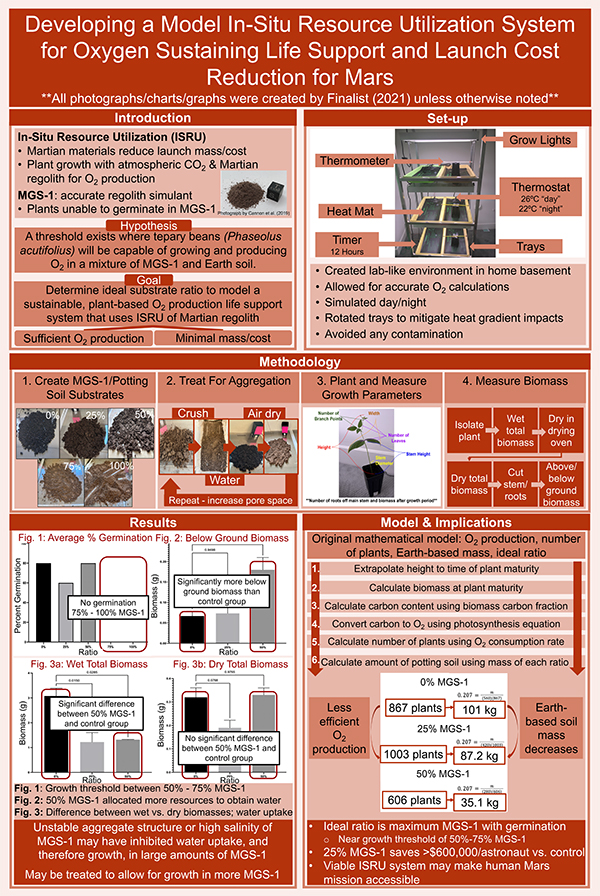 View Poster
Ariella Maia Blackman, 18, of Purchase, investigated how simulated Martian soil could be modified to allow future astronauts to grow plants and thereby generate oxygen on Mars for her Regeneron Science Talent Search plant sciences project. Ariella used conventional potting soil from Earth as a control group and added different concentrations of another material, MGS-1, that mimics the regolith, or loose rock and dust, found on Mars. She grew drought-tolerant tepary beans in various soil-regolith combinations over 20 days and entered the results into a mathematical model she developed to determine each plant's oxygen production. She found that the ideal ratio to optimize high oxygen production and lower the cost of transporting soil from Earth was between 50% and 75% MGS-1.
Ariella is the drum major of the marching band at Harrison High School, where she is also active in musical theater and plays the flute in the chamber ensemble. She is the daughter of Rebecca and Keith Blackman and founded a Women in STEM program to benefit local Girl Scouts. An accomplished ballet dancer, she has performed since the age of three, and also enjoys volunteering with younger children during performances.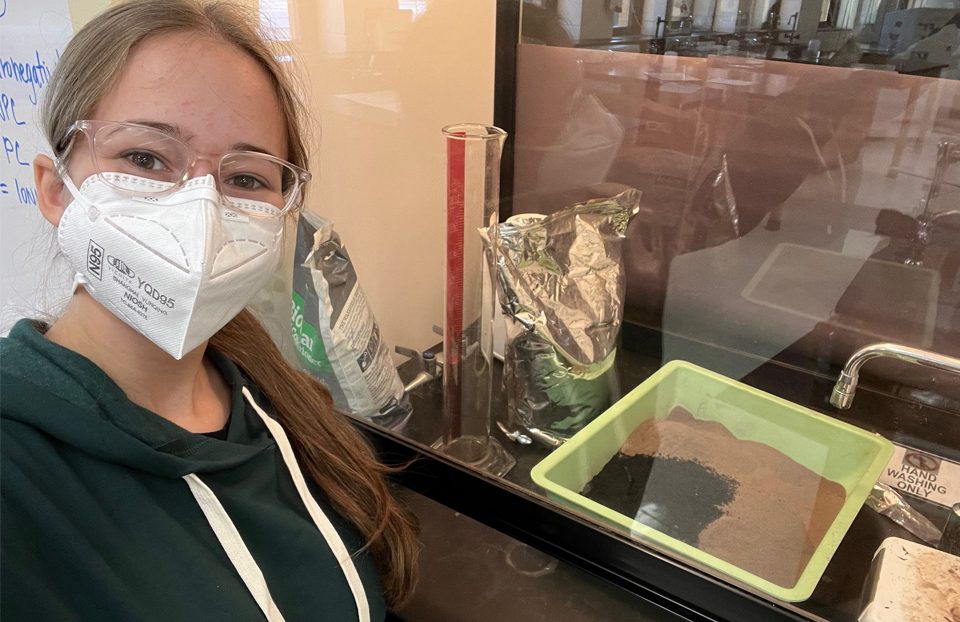 Beyond the Project
For the Women in STEM program she founded, Ariella teaches local Girl Scouts about female pioneers in science, engineering, and math through original music videos.
FUN FACTS: Ariella loved performing in her school's musicals, including "Dirty Rotten Scoundrels," "Theory of Relativity" and "Into the Woods." In "Urinetown," she acted, sang, and danced in the role of Little Sally.