Angie Fogarty
Greenwich High School
Old Greenwich, Connecticut
About Angie Fogarty
Angie, concerned about sexual assaults, developed an inexpensive, easy-to-use sensor that can potentially be used to prevent date rape by allowing potential victims to detect antihistamine-spiked drinks. The sensor works via a paper strip containing dyes. If the drink has been altered, the sensor will turn red under UV light.
Rapid, Visual Detection of Illicit Substances in a Variety of Environments via Competitive, Amine-Responsive Fluorophores
View Poster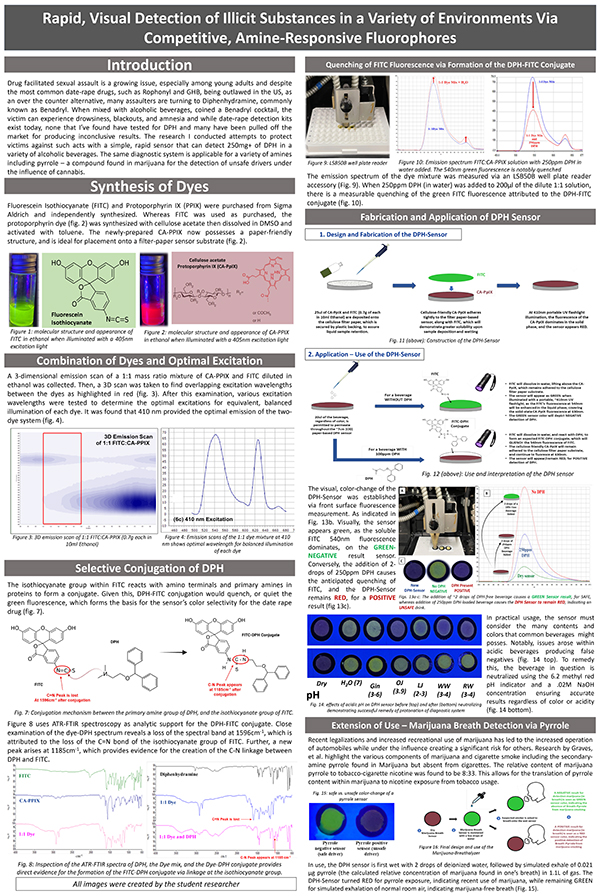 View Poster
Angie Fogarty, 17, of Old Greenwich, developed an inexpensive sensor that could potentially be used to prevent date rape for her Regeneron Science Talent Search chemistry project. Alcoholic beverages spiked with antihistamines can be used to carry out sexual assaults. Angie developed an easy-to-use, inexpensive sensor kit with a paper strip containing two dyes. The strip changes color when exposed to a couple of drops of a potentially spiked liquid under the light from a UV flashlight, included in the kit. If the liquid contains a suspicious substance, the strip remains red; if not, it turns green. Finding in her tests that the acidity of the beverage affected the reaction, she added a step: adding a tiny amount of sodium hydroxide – now also included in the kit – to standardize the pH.
Angie attends Greenwich High School where she is vice president of the science team and excels on the constitutional debate team. The daughter of David Fogarty, Angie is the vice president of her local B'nai B'rith organization and has worked with the Anti-Defamation League to raise awareness of antisemitism. She also volunteers with several organizations that help children with special needs and serves as a head coach of a Special Olympics sports team.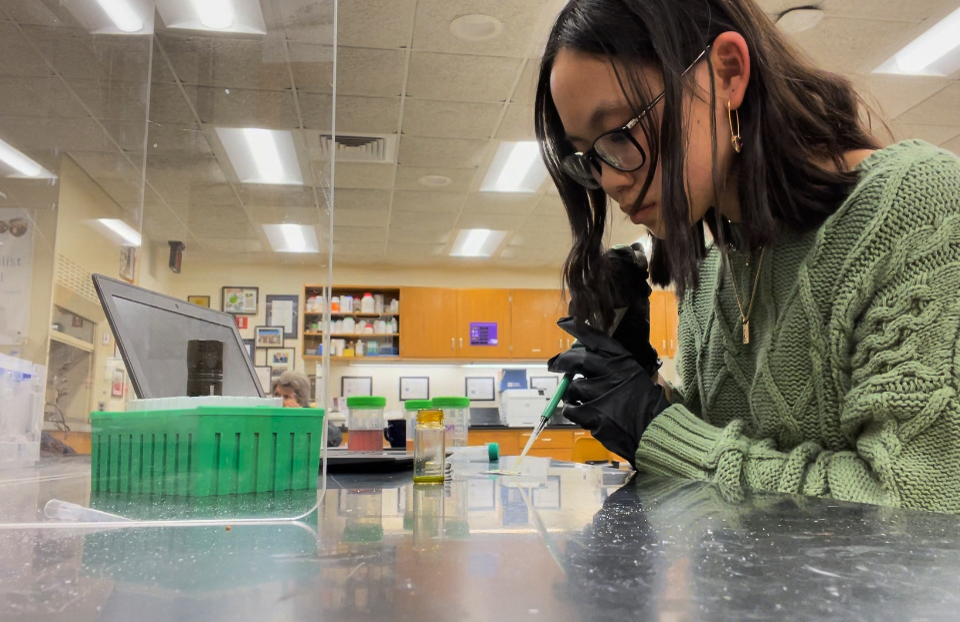 Beyond the Project
As an intern at a veterinary clinic last summer, Angie helped with bloodwork and vaccines and shadowed clinicians performing surgery. Her highlight was assisting with a three-hour ACL repair.
FUN FACTS: Angie wants to try every drink on the Starbucks menu and is halfway there. Her favorite is the Iced Blonde Vanilla Latte, and she has only thrown out one: the Iced Apple Crisp Oatmilk Macchiato.